Franchise Request
* required field
About Big Frog Custom T-Shirts
---
Liquid Capital: $50,000
Net Worth Requirement: $300,000
Franchise Fees: $45,500
Royalty: 6%
Training and Support: Available
Home Office: Dunedin, FL
CEO: Dr. Christina P. Bacon-DeFrece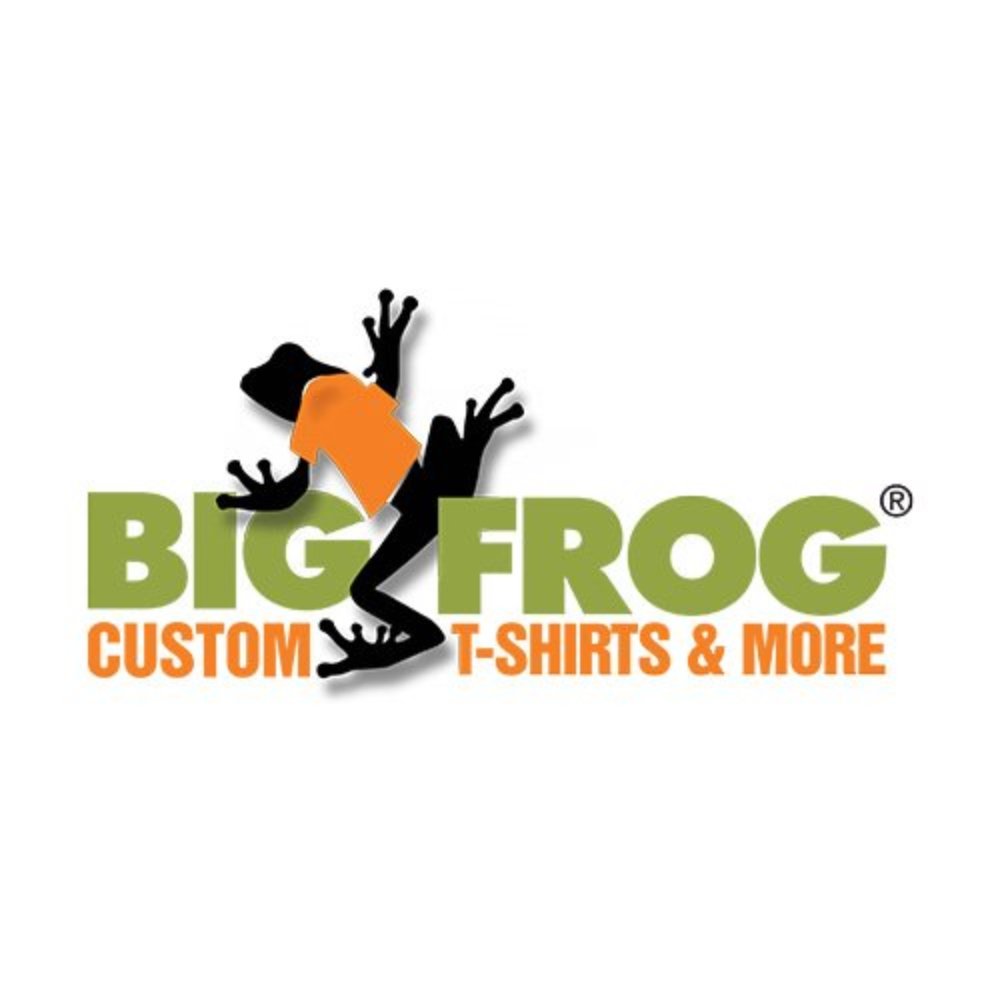 ---
Investement Range $182,904 - $253,041
---
About Big Frog Custom T-Shirts Franchise
T-Shirts! It's fun, creative, fulfilling and easy to operate. And everyone is a potential customer. People might say, "A T-Shirt Business?" But, we are a light manufacturing retail business based on new technology that can create custom designed t-shirts for anyone and everyone. Here at Big Frog we have discovered that becoming part of your community, having fun every day, and making customers happy creates a fulfilling & rewarding business opportunity.​
​Big Frog Custom T-Shirts is now offering franchises to qualified owners. Our concept is driven by emerging technology in fabric dyeing, and is revolutionizing a multi-billion dollar industry. We feature a low total investment compared to other retail concepts, daylight hours 5 1/2 days a week, few employees, designated territories, and green technology.
Big Frog is a People Business!
B-to-C – With our no minimums and no setups we can service customers who want even just one shirt

B-to-B – Business Accounts are a huge revenue source

70% Revenue is driven by happy customers

Storefront Retail Location (1200 to 1500 sq. ft.)

Follow Your Passions

Become an integral part of the community
Big Frog Franchise Group Culture and Founders
We are committed to providing exceptional customer service to the franchisees through:
Proven Systems

Transparency

Strong Mission Statement

Family-Oriented Goals
Big Frog Franchisees provide top quality custom products driven by easy to use all-digital, green technology! Customers can not only get their new favorite T-shirt, but their new favorite hoodie, tank, jacket and more.
T-Shirts are a thriving $60 Billion Industry:
T-shirts have been around for over 100 years

Evolution

Garment Decorating

Removal of Barriers to Entry

Expertise

Strong Partnerships/Relationships
Big Frog is Not Just a Business, It's a Lifestyle
Fun and creativity are celebrated at Big Frog – by customers and employees alike! Although a successful Big Frog capitalizes on our amazing DTG printers and the quality T-shirts – it's also about owning your day-to-day freedom to enjoy your work and home life. A Day in the Pond is best described by our phenomenal franchisees:
Custom decorated garments are always the perfect product because customers design them to be. Our Customer Satisfaction is exceptional! System wide, our Net Promoter Score (NPS) is 87- far out performs other retail outlets and service providers like Nordstrom or Costco. Read these comments taken directly from our customer surveys:
Operational Advantages:
Minimal Employees – Average of Three to Four Per Location

Daylight Hours – Helping You Spend More Quality Time

Around 1200 Square Feet Needed – Cutting Down on Rental Costs

Low Inventory – Inventory Orders Typically Arrive in One or Two Days

70% Gross Profit Margin

Low Overhead Costs – With No Big Ticket Surprises

Environmentally Friendly – Green Process with Low Impact

Minimal Competition
As a Big Frog Franchisee, You Deserve Comprehensive Support
We have structured the Big Frog Franchise Group to service your business needs:
Training
Big Frog University for Managers

Big Frog University

E-Learning

On Site Training

Comprehensive Manuals

Webinars and Videos for You and Your Employees
Strategic Partners
Financing

Site Selection and Lease Negotiation

Wholesale Blank Apparel Agreements

POS and Computer IT

Store-in-a-Box With Everything You Need For Your Store Delivered to Your Door
Business Coaching
Human Resources

Lease Negotiation

Financial Guidance

Pre-Opening Support

Ongoing

Site Visits and Training
Additional Resources
Annual FROG-A-Thon Meeting

Industry Tradeshows

Peer Groups

Intranet Forums

R&D New Product Development

Franchisee Advisory Council
Marketing
SEO

Proven Marketing Activities

Co-Branding Programs

Digital Advertising

Comprehensive Marketing Manual

Microwebsites

Car Wrap

Grand Opening Guidance

PR Media Kit
As a Big Frog Franchisee, you will have unprecedented Access to the Founders. They know this business inside and out and are literally a phone call away.
Ready to learn more? -

Contact Us