Franchise Request
* required field
About bluefrog Plumbing + Drain
---
Liquid Capital: $75,000
Net Worth Requirement: $175,000
Franchise Fees: $54,900
Royalty: 6%
Training and Support: Available
Home Office: Waco, TX
CEO: Gary Findley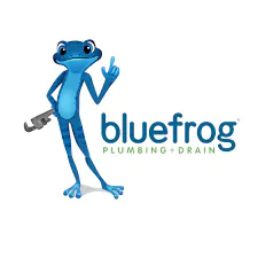 ---
Investement Range $127,130 - $370,915
---
About bluefrog Plumbing + Drain Franchise
Fast-growing bluefrog Plumbing + Drain franchise is a wise investment for entrepreneurs looking to flourish
Plumbing might be the best kept secret in the home services industry. The industry is booming, with $110 billion in annual revenues, and the fact that plumbing is a need, not a want, for every homeowner makes plumbing entirely recession-resistant. For far too long, plumbing has been the butt of lame jokes (pun intended!) and stereotypes, and overlooked by entrepreneurs who are interested in the home services space. It might surprise you that plumbing is a high-margin, highly sophisticated business to own. It can also be incredibly rewarding, both personally and financially. There's something that bluefrog Plumbing + Drain franchise owners know that you don't:
WE'RE NOT IN THE PLUMBING BUSINESS, WE'RE IN THE PEOPLE BUSINESS.
"I've been in franchising for a long time, and I know that the only businesses that are truly worthy investments are recession-resistant, offer high margins and are an immediate need for a large population," says Gary Findley, CEO of bluefrog Plumbing + Drain. "If you have a problem in your home, whether it's a leak, a clogged toilet, or roots growing in your yard that bust your pipes, that has to be fixed. People for a long time thought they had to be a plumber, or have a license. No. This is a true business. We offer advice on helping you find a qualified plumber, we help you master the business model, and that's why we're attracting business-minded entrepreneurs. There's nothing sexy about being a plumber, but if you want to be in business, if you want to grow, if you want to earn a great living, this is the business for you."
You may not know plumbing, but bluefrog Plumbing + Drain franchise does
Plumbing may seem complicated, and it is, but entrepreneurs don't franchise with bluefrog Plumbing + Drain to become plumbers — they join the bluefrog family because they want to thrive in business. This is why bluefrog Plumbing + Drain coaches you through the process of hiring the best plumbers in the industry to work for you. In fact, we have an entire team dedicated to researching the most qualified plumbers in every market, and we teach a consistent process to produce consistent results in regards to hiring.
We want you to focus on growing your business. This is why we've designed our business model to help maximize profitability and provide the most exceptional customer service in the plumbing industry. Beginning with our low investment, bluefrog Plumbing + Drain franchise is one of the most affordable franchise opportunities in the home services industry. Because we don't require a brick and mortar location, and it only takes one van and a minimal number of employees to begin operations, franchisees can begin generating revenue extremely quickly.
Our support takes care of the rest. We offer world-class support, with a special emphasis on financial awareness. We help you develop a business plan, provide a full suite of marketing services, and offer ongoing coaching and mentoring to ensure that your business continues to grow over the long term.
Changing the stereotypes about plumbing: It's about people
bluefrog Plumbing + Drain is setting the gold standard for customer service in the plumbing industry. Our franchisees are available 24/7, 365 days a year, so their customers have a trustworthy plumber when disaster strikes. Our mission is to provide the right fix for the right price. We guarantee our work and we are not happy until the client is happy.
Our franchisees are able to offer their customers a wide range of services, which helps drive business, win new customers and provides access to multiple revenue streams. These are the lists of services that our franchisees provide to their customers day-in and day-out:
Emergency calls

Clogged drains

Water heaters (including tankless water heaters)

Toilets, faucets and sinks

Sewer and water line repair or replacement

Garbage disposal

Hydro-jetting

Tree removal

Gas leak detection and repair

And more!
bluefrog Plumbing + Drain support helps franchisees excel as entrepreneurs
The decision to join bluefrog Plumbing + Drain means that you're joining a brand that has experience in helping entrepreneurs thrive in business. From the first moment you sign your franchise agreement, and every day after, bluefrog Plumbing + Drain support staff will be there to help and guide you.
This is how we do it:
Initial training: You will travel to our state-of-the-art campus in Waco, Texas, for a weeklong training session. This week will be packed with classes about how to master our proven business model. We will teach everything from how to effectively market in your territory, how to sell the services we provide, how to deliver an exceptional customer experience, how to hire qualified plumbers, how to be an effective leader of your organization, and so much more.

Online training: When you leave the first week of training, the education doesn't stop there. We offer an extensive resource of online training modules to help you ensure that the information you learned at training is available. We also offer resources for your plumbers to access to ensure that they know how to answer questions if they come up on a job site.

Financial coaching: This is the most important part of the bluefrog Plumbing + Drain franchise. We teach you how to build a business plan that is achievable, how to benchmark goals, and how to continually take your business to the next level. We will speak to you on a regular basis about your performance to hold you accountable to your goals, answer any questions you have and ensure that your business is always on the right foot.

Ongoing training: We provide an enormous amount of ongoing resources to help you going forward. We provide a full suite of marketing support, financial coaching, mentorship and more, in order to allow you to stay focused on growing your business.
Ready to learn the next step? -

Contact Us