Franchise Request
* required field
About Creative Colors International
---
Liquid Capital: $100,000
Net Worth Requirement: $250,000
Franchise Fees: $49,500
Royalty: 7.50%
Training and Support: Available
Home Office: Mokena, IL
CEO: Mark Bollman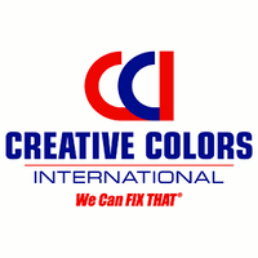 ---
Investement Range $86,980 - $102,410
---
ABOUT Creative Colors International Franchise
CREATIVE COLORS INTERNATIONAL, INC. started in July 1991 through its affiliate J & J's Creative Colors, Inc. J & J's Creative Colors began business in 1980 dyeing, repairing, and restoring leather, fabric and vinyl, plastics, and fiberglass. Currently there are 18 mobile units in operation servicing the Chicagoland and surrounding suburbs.
The markets currently being serviced are:
Auto markets — Car Dealers — (new, used, parts, service)

Auctions

Body shops

Rental cars

Insurance markets

Airline industry

Furniture industry
There are many other markets that have remained untouched and will be the focus of J & J's expansion in the years ahead. These markets are to include restaurants, hotels, motels, government facilities, and hospitals.
As growth continued through the years and additional mobile units were added, customer demands and continued growth spurred the necessity for a much larger expansion program. Franchising was selected because of the closeness of franchises as TEAM MEMBERS. The ongoing support, training at headquarters, training in a franchise territory, along with continued research in products and techniques, would provide the base needed to duplicate J & J's success. This would allow tremendous opportunities for others (franchisees) to build a solid future in a successful business
OUR FRANCHISE SUCCESS STARTS WITH OUR LEADERSHIP TEAM.
We are fortunate to have one of the most experienced leadership teams in franchising. It is under their guidance that we have had and continue to see our great successes.
CREATIVE COLORS INTERNATIONAL, INC. is a company where a family atmosphere is instilled in each franchise. We portray our family style business to our franchisees so that they will use these values in growing their own business. Quality and service is the future of our industry and we strive continually for both at C.C.I.
Our franchise system currently has 68 locations including our affiliate and company owned locations. We offer our services in the following states: Arizona, Arkansas, California, Colorado, Florida, Georgia, Illinois, Indiana, Iowa, Kentucky, Louisiana, Michigan, Mississippi, Missouri, New Jersey, North Carolina, Ohio, South Carolina, Virginia, and Wisconsin. We also operate in London, Ontario, Canada. A total of 125+ mobile units are providing these services throughout the U.S. and Canada. We will continually expand each year adding new franchises each year until we reach our saturation point of 500 franchisees in the United States.
All franchises have an exclusive territory containing all markets for continued growth. Each franchise develops their territory by adding mobile units to provide services. The continued growth is built through name recognition, quality, and service. Through their own motivation and desires, a rewarding business is built for themselves and their families.
Our concern for the individuals extends to our customers too. We may know that we are better than our competition, but we are really no better than the treatment we give our customers.
WHY CREATIVE COLORS? Welcome!
Ready? Let's get started!
Create Success with our Franchise Opportunity!!
Creative Colors International offers the motivated entrepreneur the opportunity to operate a proven business, which provides immediate income and unlimited potential for growth. You will be in business for yourself, but not by yourself.
CCI helps establish your client base so your franchise is generating revenues immediately!!!

Franchisees receive an intensive 4-weeks of training and ongoing consultation services to keep your business at peak performance.

Home-Based, Low-Overhead & High Profit Potential!!

Exclusive & Protected Territory

National Accounts

Our Start-Up Program includes an equipment package for operator convenience.

Each van is equipped with all the tools needed, including a compressor, generator, Air Hose Retractor/Hoses, Heat Guns, Dyes, Graining Molds, and a full line of supplies.
With modest start-up costs, a complete training program, and support, we can put tremendous growth potential at your fingertips. Act quickly because each franchise is awarded its own exclusive territory. Let CCI help create a successful opportunity for YOU!
Creative Colors International has a franchise model for nearly every person
Owner Operators

Multi-Unit

Executive Model

Master Franchises
Franchises From Nearly Every Background and Skill Set already in the CCI System
Any Education Level (from High School to PhD's)

Sales Background

Technical Background

Management and/or Operations Background

Executive Background

Military Background
Go into business with a business on the go. It may be your vehicle for a rewarding future.
Guidant's AudeoTM Plan allows Guidant clients to purchase a franchise using retirement funds without being subject to taxes or penalties – thus reaping the benefits, tax deferred. In addition, Guidant facilitates the process of obtaining an SBA loan, HELOC, or unsecured loan up to $75k through our nationwide professional network.
WHAT CREATIVE COLORS OFFERS
Your road to a rewarding future starts here!
Auto, boat, and RV dealers across the country face a dilemma. Highly visible signs of wear — like torn upholstery, faded carpeting, burn holes, and damaged headliners — can subtract hundreds of dollars from a vehicle's resale value.
These dealers need a dependable way to repair damages … without taking their vehicles off premises — and off display.
Now you can provide dealers with a convenient, cost-effective way to restore visual appeal — and value — to their vehicles. And you can enjoy the freedom and satisfaction of owning your own business … as a Creative Colors International franchise owner.
As a Creative Colors International franchise owner, you'll be in business for yourself, but not by yourself. You'll receive the training and assistance you need to get into business quickly and affordably. And you'll benefit from systems and ongoing support programs designed to keep your business running at peak efficiency for years to come. The Creative Colors International franchise program: it may be your vehicle for a rewarding business future!
Creative Colors International franchisees offer convenient, on-site repairs to vinyl, velour, leather, plastics, carpeting, and other material, at a cost far less than replacement parts.
Creative Colors has a Model for Nearly Every Candidate
Owner Operators

Multi-Unit / Executive Operators
Franchisees From Nearly Every Background and Skill Set
Any Education Level (from High School to PhD's)

Sales Background

Technical Background

Management and/or Operations Background

Executive Background

Military Background – IFA VetFran Discount
SUPPORT
Remain Well Equipped Today and Into the Future
Communication
Toll Free Support — Our staff is equipped to handle all your technical questions from the franchise owners & your employees. We can also handle the situations that arise in your day-today operations. We are just a phone call away!!
On-Line Support — Our new CCI On-Line Support and Communication Center gives you 24-hour access to the latest information concerning technical questions, marketing, newsletters and industry related information. There are also open forums for you to discuss things with other CCI franchisees.
Products/Techniques
You don't stay at the top of an industry by resting on past successes. That's why CCI dedicates a great deal to research and development. We offer our franchise owners a competitive edge in new products, processes, services and training.
Each product has been thoroughly tested and must meet our exacting standards of performance, durability and efficiency. Additionally, each product is designed to integrate into our entire system.
Initial Supplies

- All of the tools, products, supplies and equipment you'll need to reach an advanced level of repair and refinishing skill are included in your initial investment.

Replacement Items

- Replacement tools, products and supplies are available by phone, fax or e-mail. We stay up to date to provide you with with latest and best products and repair techniques. We work with many Chemists to keep formulating the best products.

Management Experience

- Our staff has over 100 years combined experience in our industry and everyone is committed to our Mission Statement and Service Philosophy. We are well qualified to make your franchise a profitable one.

Field Support

- Our field representatives will visit you periodically to ensure your operations are running smoothly and to answer any questions that you may have in regards to growing your franchise.
Creative Colors International Seminar
A place to network, learn, and share information with other franchisees and staff. Learn about the latest new products and techniques and receive hands-on training for all applications. Wrap up the seminar and be recognized and join us at our Awards Gala Dinner.
Advisory Council
This is a place for franchisees to voice their opinions and work directly with corporate management to incorporate new
MARKETING PACKAGE
THE CREATIVE COLORS INTERNATIONAL MARKETING & ADVERTISING PROGRAM
The CCI Marketing & Advertising Program has been designed to achieve name recognition and consumer acceptance for the entire Creative Colors International® system. This program was designed to be practical in terms of the cost and time invested with top-of-the-mind-awareness among consumers and our commercial client base, including the following industries; Automotive, Furniture, Commercial, Marine, Aviation, RV, and Restaurants.
We offer various types of tools and sales aids to help each franchise grow their business that includes customer list building, direct mailing campaigns, online advertising, website search engine visibility/optimization, to customer-on demand variable print flyers, postcards, trifold brochures, presentation folders, interactive CD/DVD marketing along with face to face marketing in their local markets.
We also assist franchise owners in developing growth-building marketing strategies complemented by an array of effective sales aids and materials if they do not find what they are looking for in our comprehensive library of marketing and sales ideas.
In order to promote the services of our franchisees to major customer groups, we exhibit at various industry related conventions and trade shows. Our franchisees benefit from business generated and new contacts by these activities and through the addition of new national and regional accounts.
Our National Accounts program has experienced significant growth with the addition of new clients in all sectors and sales levels have increased in each of the past few years.
We also have several trade show booths available to you for home shows and business-oriented shows in your local market that are fully paid for by the CCI National Advertising Fund.
The CCI Marketing and Development Fund will combine the contributions of all franchisees for the development of both marketing strategies and professionally produced marketing materials for print or broadcast media. These materials will include those to be used by the franchisor on behalf of the franchisees, or those that will be appropriate for use by the franchisees in their local markets.
Ready to learn more? -

Contact Us