Franchise Request
* required field
About Doody Calls Pet Waste Management
---
Liquid Capital: $100,000
Net Worth Requirement: $250,000
Franchise Fees: $60,000
Royalty: 7.50%
Training and Support: Available
Home Office: Columbia, MD
CEO: Thomas Swift Jr.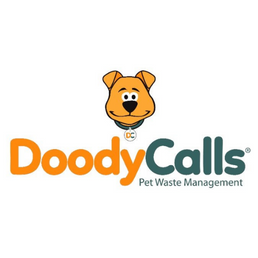 ---
Investement Range $73,025 - $91,997
---
About DoodyCalls Pet Waste Management Franchise
Dogs are a man's – and woman's – best friend. They comfort us, bring us joy, and are by our side through ups and downs. There is almost nothing to not like about a dog – except for maybe their poop. Pooping is inevitable, and with that comes the clean-up. If you have a yard, you understand all too well how downright gross it can be to step in an unexpected pile of poo. Dog poop is the unwanted gift that keeps giving – and like it or not, it's not going anywhere. That's where DoodyCalls comes in. We are a pet waste removal company that offers a variety of solutions for pet owners, commercial properties, and community managers.
In 2004, Jacob and Susan took a leap of faith and quit their day jobs to focus on DoodyCalls full time. They established company headquarters in Charlottesville, Virginia and began franchising nationwide.
DoodyCalls has since grown to have independently owned and operated locations in over 45 territories in 15 states and has been the subject of news stories in hundreds of publications. This includes two recognitions as the number one pet waste removal franchise in the United States by Entrepreneur Magazine's annual Franchise 500 list. To put it plainly, DoodyCalls is cleaning up!
DoodyCalls Services
DoodyCalls proudly scoops over 10 million doggie deposits every year and is the leading provider of pooper scooper services in the country. We're also the first pet waste management company and franchise of our kind. We provide our services to people who are short on time – or simply don't want to clean up after their pup - but are never short on love for their pets. We get it. And we are here to help. Each DoodyCalls location puts customers first and is continually solving pet waste problems for the planet with our unrivaled industry experience. DoodyCalls is making the world a cleaner and happier place – one poop pile at a time.
Residential dog poop removal
Chances are you don't love picking up after your dog. Chances are, it's the least enjoyable part of your day. Well, you're not alone! Though we haven't done a scientific study, we can confidently say that dog poop removal is likely the least enjoyable part of being a pet parent. So why not be done with it once and for all? DoodyCalls is here to eliminate this task from your to-do list. We are a professional pet waste removal company that has been helping homeowners keep their yards clean and safe for over 20 years, and we are ready to do the same for you.
The problem is pretty simple: you have a dog, you have a yard, and your dog relieves him or herself in the yard several times a day, leaving you with an unpleasant obstacle course. Our solution is just as simple: our local independently owned and operated location stops by on a regular schedule and carefully removes and dispose of any pet waste, ensuring your yard is clean and safe for your family to enjoy. You can focus on more of the things you love while we handle the dirty work.
Yard deodorizing services
If you are overwhelmed by odors on your patio, deck, or sidewalk, your dog may be the one to blame. Though your furry friend may be easy to forgive, getting rid of that smell isn't as simple. At DoodyCalls, we offer patio, deck, and yard deodorizing services that will have your property smelling fresh again in no time. These areas often begin to smell after your dog does his or her business in the vicinity. The teams from our independently owned and operated locations can apply a natural cleaning solution with deodorizing enzymes that are tough on odors yet gentle on the surfaces of your patio or deck.
If it's been a while since these surfaces have been cleaned or deodorized, it may take several treatments to completely remove the unpleasant smells of pet urine and feces. But the DoodyCalls team is confident we can rid them from your property so that you don't have to deal with those smells while you enjoy your yard. Your family, visitors, and, yes, even your pets themselves will appreciate this service.
If your property has some unsightly brown spots as a result of dog waste, DoodyCalls offers a temporary solution that will cover them up for a short period of time. Our brown spot treatment is a one-time service for clients looking to touch up their lawn, especially before a big gathering or event. NOTE: THIS IS NOT A BROWN SPOT REMOVAL SERVICE; instead, it's a temporary treatment for when you need a quick cosmetic fix.
Dog waste can sometimes kill grass and leave small brown areas in yards. Many times they are so small that they are barely noticeable. Sometimes, however, they can be in more visible areas or near patios and walkways. If you are having a special event, these spots could look a bit unsightly and take away from the look and feel of your property. That's when it's time to call our team.
DoodyCalls uses an environmentally friendly mixture of green food coloring, sugar, and water that is sprayed on the brown spot to help camouflage it. This is not a permanent solution and it will grow out as the grass grows. Often the treatment will only last until the next time the lawn is mowed. Though there are no guarantees this will fully cover up your brown spot, it can significantly decrease the look of it.
Community pet waste removal
Pet waste station installation and management
Why DoodyCalls?
Our dog waste removal franchise is a great choice for three primary reasons:
Picking up dog poop is annoying.
The U.S. is home to millions of dog owners, and we can confidently say nearly none of them enjoy cleaning up after their pups. That's where DoodyCalls steps in.
Picking up poop is a recurring problem.
No matter what, dogs are never going to stop pooping. Many dogs poop several times a day. So it's safe to say this problem is never going away – so neither are we.
Picking up poop – or not picking it up – is a community problem.
Many shared spaces in both large cities and smaller towns have the same problem: residents who won't clean up after their pets. DoodyCalls offers commercial and community solutions.
Franchise Opportunities
Invest In Your Own Pet Waste Removal Company
If you're ready to make your entrepreneurial dreams come true with a proven national brand that is poised for continued growth, DoodyCalls has an exciting opportunity for you. We are looking for passionate and hard-working individuals to bring our pet waste removal services into new communities throughout the United States. We have over 20 years of experience and a current presence in 15 states. Though a pooper scooper service might not seem like the most conventional choice for entrepreneurs, the fast success of our company is a strong endorsement for why we are a great choice for prospective franchisees.
An Exciting Opportunity Awaits!
DoodyCalls offers entrepreneurs an easy-to-follow path to success. Whether you are a seasoned professional or an aspiring business owner, we can work with you! Our pet waste removal franchise offers recurring revenue, limited competition, and no guesswork. Plus we offer reduced franchise fees through our membership with the International Franchise Association to both Veterans as well as Women and Minority owners. Now is the time to join our team and enjoy the ride!
Ready To Learn More?

-

Contact Us